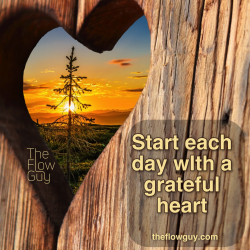 Latest posts by TheFlowGuy
(see all)
Happiness is the most important engine in our lives, but we often do not understand what it is or where we can find it. We try different scenarios, hoping that we will somehow stumble upon happiness, but we are still aware of how deceptive the search can be.
The truth is that sometimes tricky questions have really simple answers. This probably is the case with happiness.
These 10 inspiring thoughts will give you great insights into what makes people happy.
Happiness is not something you postpone for the future; it is something you design for the present." Jim Rohn
We tend to see happiness as a goal we need to achieve somewhere in the future, not as something we can achieve right now and right here. This way of thinking actually prevents us from finding happiness in the present, when the present offers us opportunities for it.
There is only one happiness in this life, to love and be loved. George Sand
People seek happiness in many different ways, but everyone would agree that the surest way to find happiness is to cultivate love. Sharing and receiving love makes us happy – it's that simple.

 
Success is not the key to happiness. Happiness is the key to success. If you love what you are doing, you will be successful. Albert Schweizer
Our modern society accepts that happiness is something that only comes after we have achieved success. Successful people know that happiness precedes success. Enjoying your work and finding joy and happiness in work make us successful.
Happiness lies in the joy of achievement and the thrill of creative effort. Franklin D. Roosevelt
Happiness is not really about reaching a specific goal or destination but rather about enjoying the ride. Every new step towards our goal should make us happy and fulfilled. This type of happiness is not about excitement but about peace. It is stable and lasting happiness.

Happiness is when what you think, what you say, and what you do are in harmony. – Mahatma Gandhi
Lasting happiness is not ecstatic. It is like the feeling of peace and harmony that extends to our thoughts and actions. This is possible when our actions and thoughts correspond to the deepest desires of our hearts.
It is not how much we have, but how much we enjoy, that makes happiness. Charles Spurgeon
Happiness is rarely about what we have or what we can produce. It is more important that we have what we have. True happiness comes from knowing how to see everything in bright, positive light and enjoying all the things that happen to us.

 
Being happy doesn't mean that everything is perfect. It means that you've decided to look beyond imperfections. Gerard Way
We always strive for perfection and delude ourselves that happiness can only come from perfection. As a result, we lack happiness entirely. When we learn to see and accept imperfect things as they are, we attain true happiness.
A smile is happiness you'll find right under your nose. Tom Wilson
Happiness can be associated with outstanding achievements, but it can also be related to simple things. Sometimes all it takes to feel happy is to remind ourselves to smile and meet the world with optimism and joy. In this way, we discover that happiness has always been waiting for us.
Happiness is not something ready-made. It comes from your own actions. The Dalai Lama
Believing that happiness is something that awaits for us to find it somewhere in the distant future is a distorted way of thinking about life. Happiness is a product of our actions, decisions, and thoughts. It does not come to us from outside. It grows in us.
Remember that the happiest people are not those getting more, but those giving more. H. Jackson Brown, Jr.
Selfish people never know happiness. They confuse happiness with a fleeting sense of satisfaction that, instead of leaving them satisfied, makes them victims of new desires. Truly happy people know how to escape this trap by giving more to others instead of always thinking for themselves.
❤️ Support Our Journey Towards Health and Mindfulness
Dear Friend,
As we continue to journey together through the realms of health, nutrition, and mindfulness, we've created a space where knowledge and well-being intertwine, thanks to your unwavering support.
Today, we're reaching out to ask for a small token of support to keep TheFlowGuy.com thriving. Your donation, no matter the size, will fuel our commitment to providing accurate, insightful, and life-enhancing information about diets, healthy lifestyles, and mindfulness practices.
Every contribution helps us enrich our encyclopedias, enhance our platform, and continue to share valuable insights into healthier living. Whether it's the cost of a cup of coffee or a healthy snack, your support makes a significant difference.
Join us in nurturing this community dedicated to wellness. Your donation is more than just a gift; it's a shared belief in the power of knowledge to transform lives.
With gratitude,
TheFlowGuy.com
Like what you read here? Join our happy and healthy community now!