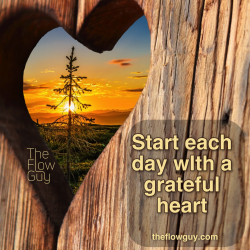 Latest posts by TheFlowGuy
(see all)
I share with you the important Tibetan practice for your thyroid gland. This exercise provides increased blood flow to your thyroid gland, which will cleanse it and keep it healthy.
STEP 1 – Rub your palms well to warm them. Then carefully place your palms on the thyroid gland and hold them there for about ten seconds.
STEP 2 – You should swallow your saliva three times in a row or drink three sips of water.
STEP 3 – Exhale slowly. As you exhale, bend your head forward and press your chin to your chest as hard as possible. Hold your chin for a few seconds without breathing. When you start breathing, lift your chin and lower your head. Keep your head in this position for a while. Once you begin exhaling, press your chin to your chest again.
STEP 4 – While your chin is on your chest, slowly turn your head left and right, never removing your chin from your chest. This movement is an excellent massage of the thyroid gland.
Note: Your head rises when you inhale and goes down as you exhale.
Repeat the above steps of the Tibetan practice ten times.
You can practice it in either a sitting or standing position. I recommend practicing this excellent Tibetan practice often – several times a week. Your thyroid gland will be so thankful to you while its condition greatly improves.
Practicing this exercise is remarkably effective in cases of hypothyroidism.
Life is Beautiful! You are wonderful!
❤️ Support Our Journey Towards Health and Mindfulness
Dear Friend,
As we continue to journey together through the realms of health, nutrition, and mindfulness, we've created a space where knowledge and well-being intertwine, thanks to your unwavering support.
Today, we're reaching out to ask for a small token of support to keep TheFlowGuy.com thriving. Your donation, no matter the size, will fuel our commitment to providing accurate, insightful, and life-enhancing information about diets, healthy lifestyles, and mindfulness practices.
Every contribution helps us enrich our encyclopedias, enhance our platform, and continue to share valuable insights into healthier living. Whether it's the cost of a cup of coffee or a healthy snack, your support makes a significant difference.
Join us in nurturing this community dedicated to wellness. Your donation is more than just a gift; it's a shared belief in the power of knowledge to transform lives.
With gratitude,
TheFlowGuy.com
Like what you read here? Join our happy and healthy community now!