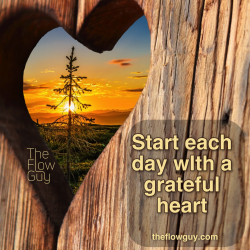 Latest posts by TheFlowGuy
(see all)
There was once an island where all the feelings lived; Happiness, Sadness, Knowledge, and all the others, including Love. One day the feelings were told that the island would sink, so everyone prepared their boats and set sail. Only Love insisted on remaining until the last possible moment. When the island was almost sunk, Love decided to ask for help.
Wealth walked by Love and Love said:
"Wealth, take me with you."
"I can't," replied Wealth, "I have a lot of gold on my ship, and there's no room for you."
Love decided to ask Vanity, sailing in her beautiful ship:
"Vanity, please help me."
"I can't help you, Love; you're all wet, and you will ruin my ship." Vanity replied.
Sadness was near, so Love asked her:
"Sadness, let me run away with you."
"I can't, Love." I'm so sad I need to be alone.
Love was also passed by Happiness, but he was so happy that he did not even hear when Love called him. Suddenly there was a voice:
"Come, Love, I will take you with me!"
The voice was that of an unknown elder. Love was so excited and happy that she forgot to ask for his name. When they arrived on the land, he proceeded on his way. Love, realizing how much she owed him, asked Knowledge:
"Who helped me?"
"Time has helped you," Knowledge replied.
"The Time?" – Love wondered, "But why has Time has helped me?"
Knowledge smiled and replied:
#####"Because only Time is able to understand how great Love is!"
Like what you read here? Join our happy and healthy community now!