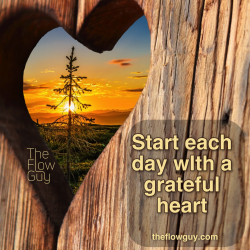 Latest posts by TheFlowGuy
(see all)
There was once an island where all the feelings lived; Happiness, Sadness, Knowledge, and all the others, including Love. One day the feelings were told that the island would sink, so everyone prepared their boats and set sail. Only Love insisted on remaining until the last possible moment. When the island was almost sunk, Love decided to ask for help.
Wealth walked by Love and Love said:
"Wealth, take me with you."
"I can't," replied Wealth, "I have a lot of gold on my ship, and there's no room for you."
Love decided to ask Vanity, sailing in her beautiful ship:
"Vanity, please help me."
"I can't help you, Love; you're all wet, and you will ruin my ship." Vanity replied.
Sadness was near, so Love asked her:
"Sadness, let me run away with you."
"I can't, Love." I'm so sad I need to be alone.
Love was also passed by Happiness, but he was so happy that he did not even hear when Love called him. Suddenly there was a voice:
"Come, Love, I will take you with me!"
The voice was that of an unknown elder. Love was so excited and happy that she forgot to ask for his name. When they arrived on the land, he proceeded on his way. Love, realizing how much she owed him, asked Knowledge:
"Who helped me?"
"Time has helped you," Knowledge replied.
"The Time?" – Love wondered, "But why has Time has helped me?"
Knowledge smiled and replied:
#####"Because only Time is able to understand how great Love is!"
❤️ Support Our Journey Towards Health and Mindfulness
Dear Friend,
As we continue to journey together through the realms of health, nutrition, and mindfulness, we've created a space where knowledge and well-being intertwine, thanks to your unwavering support.
Today, we're reaching out to ask for a small token of support to keep TheFlowGuy.com thriving. Your donation, no matter the size, will fuel our commitment to providing accurate, insightful, and life-enhancing information about diets, healthy lifestyles, and mindfulness practices.
Every contribution helps us enrich our encyclopedias, enhance our platform, and continue to share valuable insights into healthier living. Whether it's the cost of a cup of coffee or a healthy snack, your support makes a significant difference.
Join us in nurturing this community dedicated to wellness. Your donation is more than just a gift; it's a shared belief in the power of knowledge to transform lives.
With gratitude,
TheFlowGuy.com
Like what you read here? Join our happy and healthy community now!